biodegradable rainbow holi powder packets for color run

What is Holi? Holi is a festival of colors celebrated in the Indian subcontinent for thousands of years. It signifies victory of good over evil and it marks start of spring season. How to play Holi powder? Traditionally, washable natural plant-derived colours such as turmeric, neem, and kumkum were used, but water-based commercial pigments are increasingly used. Our holi colors are safe as they are made of natural ingredients and are NON-TOXIC. People use Holi powder to smear each other's face. People throw colors in the air and also on each other. Many also like colored water fights and take delight in spraying colored water on others. By late morning, everyone looks like a canvas of colors. It is also known as "Festival of Love" as people tend to forget and forgive each other in this great environment of fun and frolic.

Holi color powder is sure to bring lots of fun into your fun-filled outdoor parties. Holi is the time to have fun with no holds barred. This is the slogan of Holi - "Bura Na Mano Holi Hai!!"(Don't get offended and have fun on Holi!).
Enjoy Holi festival, Gender Reveal Parties, Color Runs with our color powder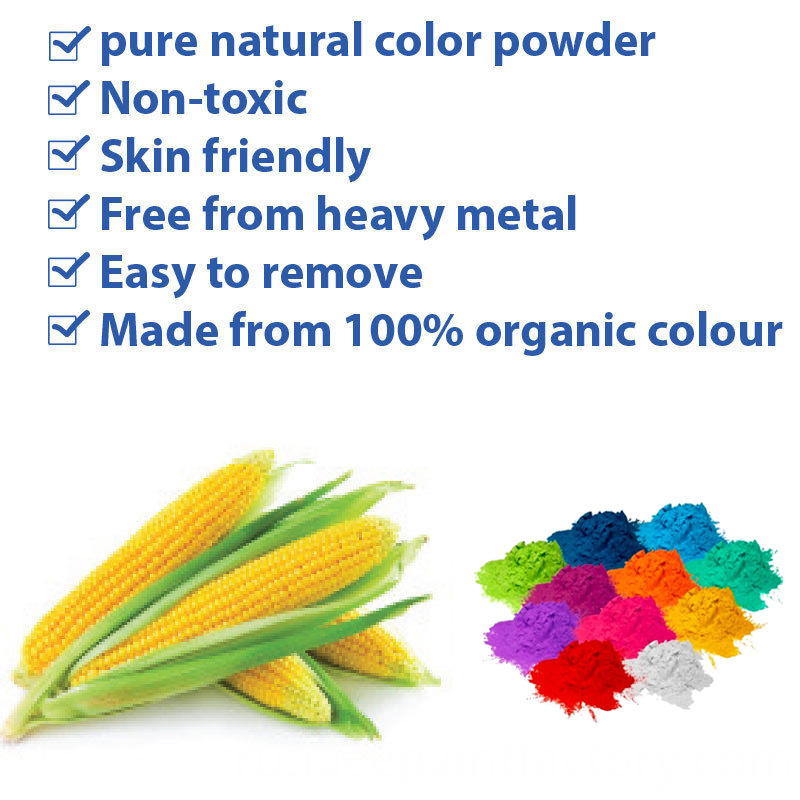 What is the details of holi powder/color run powder?
7 colors of holi powder you can choose-Blue,Pink,Red,Yeollow,Orange,Green,Purple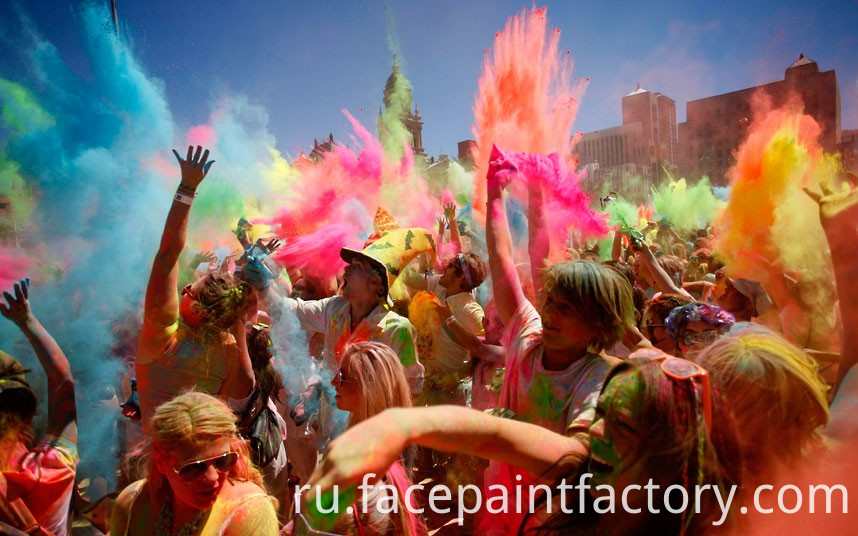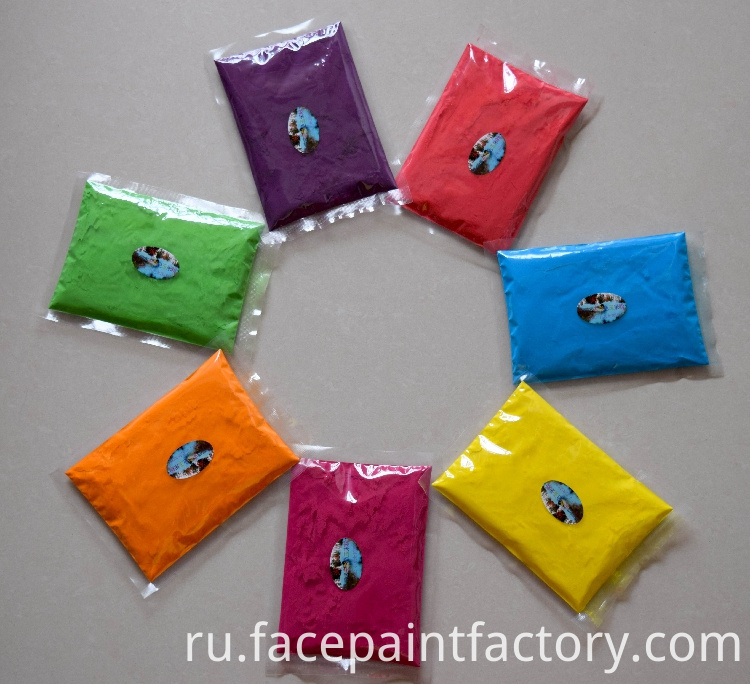 Product Feature
Fun, safe, brilliant colored powder for parties, festivals, color races, color runs, photo shoots and more.
Premium quality, Non Toxic Holi Colors. Individual Fragrance, Eco Friendly.
Eye Catchy Color - Perfumed & Stain free.
Super smooth and silky
Free from heavy metals

Package options
Individual pack holi powder:100g/bag,250g/bag
bulk pack holi powder as customer's requirement
Warm Notice
It is washable but it is good to wear old clothes when playing with it.

Have fun with it and be ready to clean after the big mess.

It is a good idea to wear sun glasses to avoid it from getting into the eyes. Some people mix it with water to make a paste and apply it that way on peoples faces and body.

Some people may have sensitive skin and may not be able to play with these color powders.

Use it at your own risk.

Apply a small amount on the skin first to assess for any allergic reaction as everyone's skin is different.

Do NOT throw in the eyes or inhale and always seek permission before throwing colors on others.



Is your holi powder washable?




Yes, it is easy wash out of your clothes, skin and hair.




Is it safe?




Yes. It is food grade and safe.




What is holi color powder made of?




All of our holi Powder is made of colored cornstarch.




Is it toxic?
No,it is non-toxic and safe for use.
We have 7 vibrant colors,yellow,blue,orange,green,red,purple,pink
What Packages are Offered?




Our standard package is 100g/bag,we can also bulk packs as customer's requirement.
How long does shipping take?




We have two options for shipping.By sea or by air.To save money on shipping it is best to order one month in advance. But for rush orders, we advice ship by air (5-7 days). that depends on where you live.Email us at sandy(at)flowerface-dtt.com with your address for exact shipping prices.
Группа Продуктов : Холи Порошок > Индивидуальный Пакет Порошок